The Sierra Nevada of California (otherwise known as the High Sierra) is a far cry from Hollywood or Silicon Valley — in spirit if not in geography. This is California's wild country, a land of mountains, meadows, waterfalls, and snowy peaks.
The High Sierra is a relatively long and narrow slice of the state. The region is 400 miles long, but only about 65 miles wide. Within those borders, you'll find one of America's most famous national parks, one of its best-loved lakes, and some of its most ancient trees. If you're interested in the great outdoors, you can't go wrong here.
We'll take a look at some basic facts about the High Sierra and then lay out the sights (and tastes) you can't miss when you pay a visit.
Sierra Nevada: Fast Facts
Area: 24,370 sq mi (63,100 km2)
Name meaning: Spanish for "snowy mountains"
Major settlements: Paradise, Sonora, Truckee, South Lake Tahoe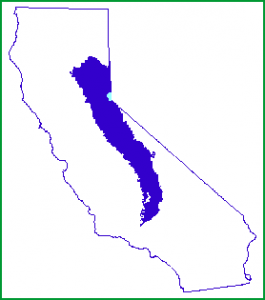 15. Mammoth Lakes
The town of Mammoth Lakes is an excellent place to start exploring the region. Like most every community in the Sierra Nevada, it's surrounded by flawless mountain peaks.
But these provide more than just beauty.
At Mammoth Mountain Ski Resort, you'll find the best skiing in the state. There are also plenty of lodgings so you can get warm once you've hit the slopes.
Who knew California could be such a great winter destination?
In the summer, you'll find the hiking trails and hot springs that surround the town charming — and there's good fishing too!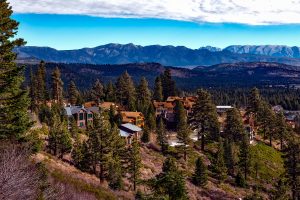 14. June Lake Brewing and Ohanas 395
Hiking and sightseeing is hungry and thirsty business. That being the case, you may want to make time to stop by June Lake Brewing company in the town of the same name. Once you've wet your whistle, check out the Ohanas 395 food truck just outside to whet your appetite. They feature tacos and chips with a Hawaiian flare.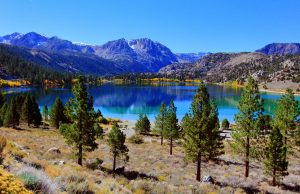 13. Laws Railroad Museum
Step into the Old West at Laws Railroad Museum in the town of Bishop. You can see an old steam-powered locomotive as well as some newer ones that remain operational.
Equally cool, you'll find there are a number of historic buildings onsite, including a schoolhouse and a church.
If you love trains and/or the history of the Old West, schedule a couple hours at this museum while you're in the Sierra Nevada.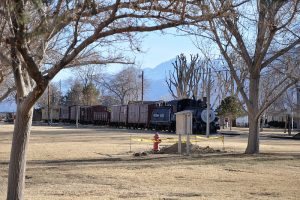 12. Convict Lake
Convict Lake is so named because a group of escaped convicts tried to hide out here back in the 1870s.
Apart from the intriguing name, the geology is really interesting.
 Sevehah Cliff, the lake's natural backdrop, is composed of layers of metamorphic rock that make it look like rippled caramel ice cream.
Beyond the lake itself, the Restaurant at Convict Lake serves up some of the best food in the Sierra Nevada. It's part of the Convict Lake Resort, so you can stay the night after your dinner and enjoy the views over the lake.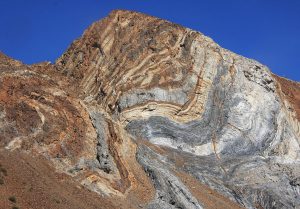 11. The John Muir Trail and Mount Whitney
While you're in the Sierra Nevada, you may as well check out the tallest peak in the mainland United States, Mount Whitney.
At an elevation of 14,505, it towers over the rest of the range.
One of its slopes is in Sequoia National Park (more on that later)!
, but you will also get a great view of it if you follow the John Muir Trail. Named after the naturist and 'father of the national parks', this path covers more than 200 miles of wild country, and presents an incredible opportunity to explore the mountain range and connect with nature.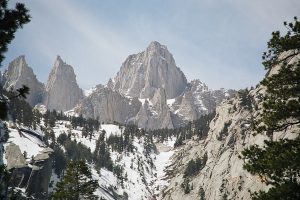 10. Mono Lake
Mono is one of the oldest lakes in the world. It's a soda lake — but we don't recommend drinking it. Basically, it's incredibly salty, and has a very high alkalinity.
Because the water doesn't drain out of the basin, high levels of saline have collected over the eons, making Mono Lake one of a kind.
Although none of this sounds conducive to life, there is actually a thriving ecosystem here. If you're an outdoorsy type, it's well worth visiting to learn more.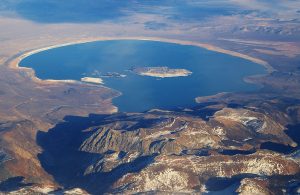 9. Château du Sureau
Okay, the Sierra Nevada is mostly about roughing it in the great outdoors. But if you want a touch of luxury mixed in, make a reservation at the five-star Château du Sureau in Oakhurst. It's part of the Estate by the Elderberries, which also includes a spa and an award-winning restaurant.
All of this is conveniently located on 9 acres of wooded foothills near Yosemite National Park. And it's not as pricey as the word 'château' might lead you to believe!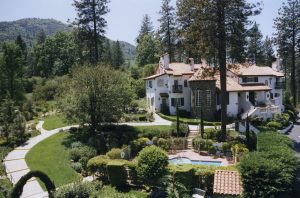 8. Devils Postpile National Monument
This is another little gem you'll pass if you take the John Muir Trail.
The unusual columns known as the Devils Postpile are made out of basalt rock. They formed from lava flows at some point in the past 100,000 years and took on their distinctive shape as they cooled.
The other attraction here is Rainbow Falls, a pretty 100-foot waterfall that is named for the rainbows born out of its sprays.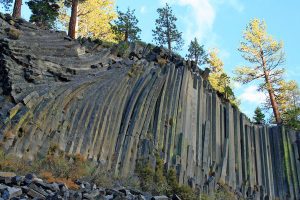 7. Giant Sequoia National Monument
The giant sequoias are the largest tree species on earth.
Individual members of the species can be thousands of years old, making them among the most ancient living things on the planet as well. Where better to see them that at the Giant Sequoia National Monument? It's a 328,000 acre preserve that includes about half of the sequoia groves still in existence.
Nature lovers will be overcome by the beauty of these gargantuan plants, silent witnesses to millennia past.
But this isn't the only place you'll find giant sequoias in Sierra Nevada, California.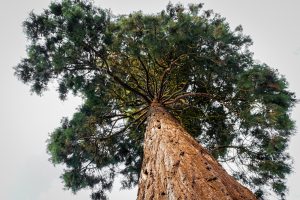 6. Manzanar National Historic Site
We turn from natural history to human history.
Manzanar was the site of the first Japanese internment camp. In one of the most shameful chapters of American history, it was used to imprison thousands of Japanese-Americans during the Second World War.
While the original structures are gone, this memorial site does an excellent job of keeping the memory of those terrible years alive. It's an important place to visit and certainly very affecting.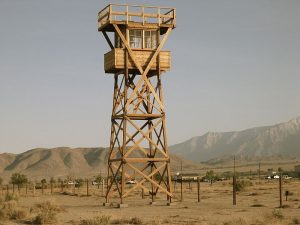 5. Bodie State Historic Park
Bodie is a ghost town just to the east of the Sierra Nevada mountains. If you want to learn more about the gold rush era, this is where you have to go.
While the town was abandoned by 1915, it has been recognized as a historical site since the 1960s, and more than 100 structures have survived.
Today you can take a stroll through an authentic boom town, and get a sense of what Bodie must have been like in the 1880s when there was gold in them there hills.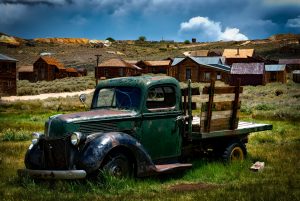 4. Kings Canyon National Park
The namesake of this picturesque national park is a glacial canyon a mile deep and so beautiful that I won't attempt to describe it.
You'll also find stunning mountainscapes, high altitude meadows, and clusters of giant sequoias. Kings Canyon National Park is connected to the next item on our list…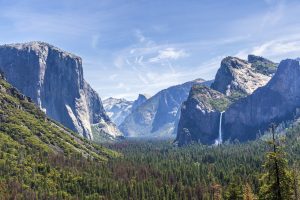 3. Sequoia National Park
We mentioned the sequoias before, but this is basically the best place to see them.
A UNESCO biosphere site, Sequoia National Park is home to General Sherman, the largest tree in the world.
If you really want to explore the park, don't expect comfort.
Most of the territory here is inaccessible by road, so you'll have to hike or go on horseback. Your legs may hurt, but your eyes will certainly thank you.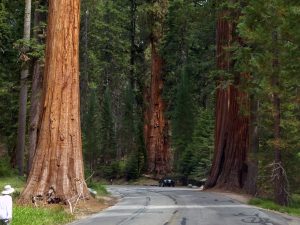 2. Yosemite National Park
Yosemite is one of America's most famous national parks, attracting more than 4 million visitors each year. While most guests stick to the Yosemite Valley with its sheer granite cliffs, the overwhelming majority of the park is pure wilderness, so you if you're adventurous you can probably avoid the crowds.
There's a spectacular diversity of wildlife in Yosemite, as the elevation varies widely. For this and other reasons, it has been named a UNESCO World Heritage Site.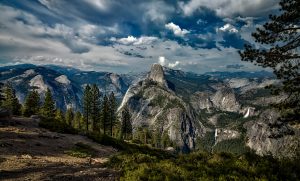 1. Lake Tahoe
Lake Tahoe is one of America's favorite lakes. At 191 square miles, it's the largest alpine lake in North America. By volume, it's the largest lake in America outside the Great Lakes.
Straddling the border between California and Nevada, Lake Tahoe has something for everyone. Casinos, boat rentals, scenic shorelines, mountain vistas, skiing — the possibilities are endless.
That's why it's one of the country's most enduringly popular destinations, and a must see when you visit the Sierra Nevada.